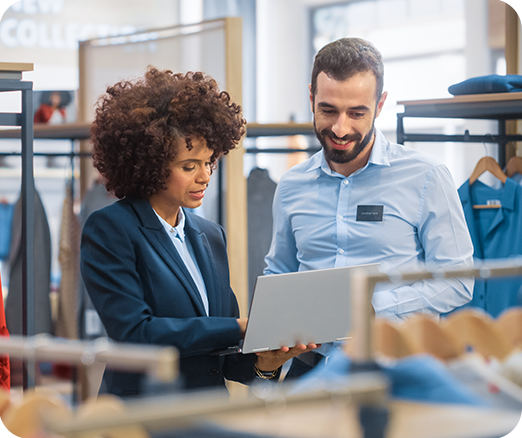 Using Point-of-Sale Data and Retail Analytics to Win at the Shelf
Physical (or brick-and-mortar) stores still account for 87% of retail sales in the U.S.
Yes, you read that correctly. And, yes, the increase in e-commerce and online shopping has been a growing trend, increasing at a greater rate than physical store sales. But despite the popularity of online retail, brick-and-mortar stores still are going strong and continue to be the most prominent shopping destinations—and expected to account for 72% of all U.S. retail sales by 2024.
This is great news for consumer packaged goods (CPG) companies. However, a CPG's loyal consumers, in-store sales, and profitability could disappear if they don't implement carefully planned and effective retail execution strategies.
Focusing on strong retail execution practices can help CPGs keep their products in the spotlight and ensure retailers are happy and meeting their own sales goals, but many brands struggle to execute in the store, resulting in lost shelf space, sales, revenue, and retailer trust.
Let's take a closer look at what retail execution is, why it's important to CPGs, and the role retail point-of-sale (POS) data and retail data analytics play in driving success at the shelf.
WHAT IS RETAIL EXECUTION?
Retail execution is a business process designed to ensure a CPG's overall brand and promotional strategy is brought to life in retail stores to improve retail performance, get a consumer to the last stage of the buyer's journey (i.e., the purchase), and maximize sales. Store-level activities can include stock replenishment, trade promotions, store audits, and merchandising.
Simply put, retail execution refers to any action a brand takes to get the right product on the right shelf at the right time—and at the right price—to generate a sale.
THE CHANGING ROLE OF THE PHYSICAL STORE AND THE INCREASED EMPHASIS ON RETAIL EXECUTION
The role of the physical store has changed drastically over the last decade from a place of simple sales transactions to one of entertainment and increased consumer engagement, along with more personalized shopping experiences. For CPGs to reach the goal of selling as much product as possible, they must promote and increase brand loyalty among their consumers, convert potential customers into new brand ambassadors, and build and retain trust with consumers and retail partners.
This has put a greater emphasis on retail execution to capture shoppers' attention and seal the deal as the final step of the sales process for in-store purchases. But even the most loyal shopper can't buy a product if it's out-of-stock (OOS) or in the wrong aisle or location.
Since 94% of consumers returned to shopping at physical stores last year, the battle to win at the shelf will continue to intensify. CPGs must find ways to keep their products front and center and gain and maintain a competitive advantage. Thus, retail execution has never been more important for influencing consumer behavior and encouraging impulse purchases.
WHY IS RETAIL EXECUTION MANAGEMENT IMPORTANT TO CPGS AND RETAILERS?
In today's omnichannel retail world, consumers can find and purchase just about any product, anywhere, and at any time. They want, expect, and are used to convenience and personalized shopping experiences. Since brick-and-mortar store sales still hold the majority of all retail sales, they have a tremendous opportunity and distinct advantage over e-commerce to better engage shoppers and make the sale.
Think about yourself for a second: When you go to a store, you're there because you intend to buy something. But you could easily be influenced or change your mind about your intended purchase and the retailer for a variety of reasons:
The product is OOS
The product is in an unexpected location
The product is priced higher than a competitor's similar product
The brand isn't offering an attractive and compelling promotion
Your competitor is offering a promotion that makes their brand and product more appealing
For whatever reason you don't buy the product, the CPG loses revenue and potentially the consumer's brand loyalty and future purchases.
Now, think about this as the CPG company: Brands can lose up to 25% of sales annually from poor retail execution. If you do the math for your own business, how much revenue will you leave on the table—or put in your competitors' pockets—and what will the impact be on your profitability? On top of that, what will it do to your retailer relationships and your efforts to gain additional shelf space?
Retail execution matters because shoppers, like you, visit retail establishments planning to make a purchase—and the numbers are significant: Approximately 70% of purchase decisions and 79% of impulse buys occur at physical retail. Therefore, if you want to grab your fair share of those planned and unplanned sales and consumers, you must be strategic about how you stock, store, display, and promote your products and that all parties involved execute as planned.
Creating, coordinating, implementing, and supporting a retail execution program and best practices takes time, resources, and commitment. But a well-implemented retail execution plan can set your company apart and yield numerous benefits:
Incremental sales lift
Increased market share
OOS reduction
Additional shelf space
Better visibility into store conditions
Greater ROI
HOW TO IMPROVE RETAIL EXECUTION WITH POS DATA AND ANALYTICS
Since poor retail execution negatively impacts a CPG's business and retailer partners in numerous ways, how can a CPG company ensure it executes in-store strategies effectively?
There isn't a one-size-fits-all answer because each CPG has different personnel, budgets, resources, etc.—but two common elements at the core of any effective retail execution strategy and effort are high-quality POS data and reliable analytics.
CPGs depend heavily on comprehensive, timely insights into what's happening on the shelves and at their retailers to ensure business continuity and growth. Without the most precise, granular sales data and analytics at the center of their business strategy, decisions will be made on suboptimal information and will be "guesses" at best. As a result, planning efforts will not be optimized, and assessment of those efforts won't be accurate.
Riding the Cycle of Continuous Improvement
You can't improve on what you can't measure. Successful brands take a data-driven approach to retail execution. Brand managers, field teams, and retailer staff rely primarily on three types of data to evaluate and improve store-level retail execution: observational, activity, and POS. Although each type helps inform business decisions in the field, knowing where and when your products were purchased is most critical because "sales" is the name of the game.
For POS data to be actionable, however, and used alongside observational data and field activity to improve retail execution, it must be collected and updated daily and in near real time. It also must be harmonized, easily shareable, and accessible to anyone who needs it. Furthermore, it must be properly and regularly analyzed. Retail data analytics helps CPGs turn retail POS data into useful information for various benefits, including spotting trends, identifying growth opportunities, and uncovering inventory and supply chain issues.
CPGs then can leverage those analytics and insights to create a cycle of continuous improvement in the field to help drive sales and grow their brands. Brand leaders can develop intelligent, comprehensive, and effective strategies for where and how to invest and reinvest with their retailers.
The cycle, which is made up of four components—insights, planning, action, and measurement—empowers brands and retailers to take data-driven action in the field, deploy field teams accordingly and effectively, and adjust retail execution strategies as necessary.
Putting the Cycle into Motion to Create Sales
CPGs that continuously iterate through "the cycle" of continuous improvement and optimize their execution efforts stand the best chance of having their products make it into a shopper's cart, whether the purchase was planned or unplanned.
Here are four examples of how CPGs use precise POS data and retail analytics to ensure retail execution compliance and success:
1.

Monitor Promotional Compliance and Track Execution
Trade promotions are the second largest line item in the corporate financials for a CPG. Yet, despite a more than 70% perceived compliance rate for retail displays and promotions, most only have 40%-50% and are executed as planned. That's a huge gap—and a significant loss in sales and revenue.
Here's how to close this gap: Collecting and analyzing POS data relating to the promotion before, during, and after implementation is vital to assessing what worked, what didn't, and why.
Promotions play a vital part in a successful in-store execution strategy, and when done properly, they can generate expected sales lifts and fuel growth in strategic markets and with key retailer partners. If promotions are not executed well or displays are set up incorrectly, there can be a major negative impact on sales because these "failures" may not be identified and addressed until weeks—or even months—after implementation. With accurate, near real-time retail sales data, CPGs can identify poor execution in a matter of days and take corrective action before the bottom line shrinks further.
2.
Strengthen Retailer Relationships and Partnerships
Only so much shelf space is available in a store and, with no shortage of competition, brands need to build strong, mutually beneficial relationships with their retailer partners and store personnel if they want to increase their in-store presence and drive incremental sales. Timely and accurate POS data empowers a CPG to tell a fact-based success story for an individual retail store or chain, giving the CPG an advantage and leverage for negotiating more shelf space, better shelf location, or additional displays.
Since most displays aren't executed properly, CPGs must get retailers to care about and give attention to their brands—which isn't easy. Retailers are busy, and a CPG is not always their top priority, but if a CPG can use POS data and corresponding insights to garner buy-in from a retailer and its store staff, they can help improve retail execution rates and increase sales.
Also, by closely monitoring sales and in-store activities that affect sales, brands can improve forecasting and proactively know when or if additional inventory is needed—communicating with retailers to optimize stock levels, which improves their credibility with retail partners.
With accurate, granular POS data and analytics that are easily digestible and available to field sales teams, CPGs can present themselves as true collaborative partners with their retailers and engage in data-driven selling that benefits both parties. As a result, retailers will be more likely to prioritize your products and in-store promotions.
3.
Prevent Out-of-Stocks
Who likes stockouts? Nobody. Not you, not retailers, and definitely not shoppers. Stockouts can kill brand loyalty and send your consumers to your competitors—maybe permanently. But if you're on top of your retail execution strategies, you can avoid stockouts before they happen and avoid lost sales.
Presenting a clear and comprehensive plan based on sound data and analytics for how to create consumer demand for your product(s) instills confidence in your retailer partners that they are making a wise and profitable investment in your brand. But your plan should also include how you will avoid stocking issues such as product shortages, overstocks, and product returns. Having a process for regular monitoring and maintenance of product displays and inventory levels helps reassure retailers that your company is committed to their sales and success.
4.
Track Cross-Merchandising Effectiveness
When CPGs prove their worth to their retailer partners and gain their trust, they stand a greater chance of obtaining valuable additional in-store placements for cross-merchandising that can drive multi-item purchases, encourage impulse sales, and increase slow-moving product sales. If a brand is fortunate enough to procure a cross-merchandising opportunity, it needs to ensure its efforts are successful and profitable.
Knowing whether your cross-merchandising is effective comes down to sales. Analyzing daily POS data allows you to keep your finger on the pulse of how your new placement is performing and how it is affecting total sales for the brand. It also helps to identify shopping trends that your cross-merchandising can emulate.
For example, let's say you determined that most shoppers who are buying soup also are buying crackers. The insight you gained would lead you to cross-merchandise these products. Or, say you had placed garden trowels in the plants area at a home improvement store, but they aren't selling in that location. You may decide to place the trowels in the gardening tools section instead.
Cross-merchandising plans will look different depending on the industry, but if you use comprehensive and accurate data to inform your decision-making, you'll ensure more effective cross-merchandising strategies.
FIRST-RATE DATA IS KEY TO GREAT RETAIL EXECUTION AND GREATER SALES
You can have the best product in the world, with the cleverest marketing, fanciest displays, and innovative promotions, but if it's not available in the store when the consumer wants to buy it, then your sales are going nowhere, fast.
Your retail execution strategy directly impacts your sales, but the way it moves the needle depends on the importance you place on it and whether your business decisions are analytics-driven and based on the most timely, accurate, and granular POS data.
The real power of retail execution lies in that data—it's the fuel that ignites and powers your cycle of continuous improvement in the field. Successful retail execution will always be a moving target because consumer preferences and behavior constantly change, but armed with the right retail sales data, analytics, and actionable insights, brands can ensure they make the necessary adjustments to respond to those shifts and continue to evolve and adapt—and prosper.
If you'd like to learn more about how point-of-sale data and retail data analytics can form the nucleus of effective retail execution at your company, contact us today.