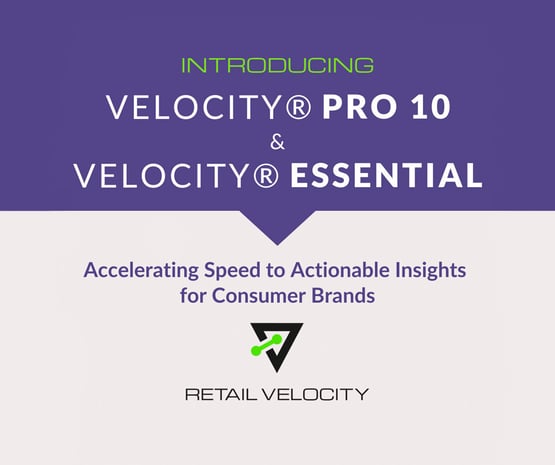 Retail Velocity Launches VELOCITY® 10, Introduces VELOCITY® Essential
Release of new version and platform edition addresses data management and reporting needs with more than 50 new features facilitating increased performance, easier data management and enhanced reporting.
ANN ARBOR, Mich. (April 14, 2022) – Retail Velocity, the pioneer and industry leader in consumer demand and supply data management, reporting and analytics, announced today the launch of the 10th generation of its VELOCITY platform and the introduction of VELOCITY Essential. New features of VELOCITY Pro 10 enable consumer brands to more rapidly access and leverage accurate, unified data for strategic decision-making. VELOCITY Essential provides an effective alternative for brands that are not quite ready for the robust functionality VELOCITY Pro provides.
About VELOCITY® Pro 10
The latest version of VELOCITY Pro delivers increased performance, easier data management, enhanced reporting, and additional security, allowing consumer goods manufacturers to gain deeper actionable insights faster than ever; make more-informed, collaborative decisions internally and with retailer partners; and quickly and effectively address changing consumer demand and market conditions.
With VELOCITY Pro 10, users across the enterprise benefit from a number of new enhancements:
Customizable dashboards designed for account-level and business intelligence users for improved daily monitoring and reporting at the most granular level
Improved user interface and control center with intuitive, web-based modules that anyone can easily operate
Configurable, key account-level attributes to better track new product launch and trade promotion effectiveness, as well as perform accurate store comparisons
Item price history management and reporting for all price changes related to product sales, trade promotions and new product launches
Report Attribute Editor to more efficiently manage item hierarchies and attributes
Multi-currency conversion for retailers with international operations
"With consumer demand shifts happening more frequently and faster than ever before—and market conditions being just as volatile—it's critical for consumer brands and their retailer partners to adapt quickly and most intelligently to those changes to maintain sales and a competitive advantage," said John Rossi, Retail Velocity CEO. "However, that's much more difficult to do if they aren't armed with precise data when they need it.
"VELOCITY Pro 10 ensures brands are supplied with the most timely, accurate retail point-of-sale and inventory data to identify key insights and accelerate confident decision-making across sales, marketing and supply chain teams. Improved data quality and accuracy results in better outcomes for not only brands and retailers but also consumers."
About VELOCITY® Essential
The launch of VELOCITY Essential exemplifies Retail Velocity's long-standing commitment to the consumer markets industries and to strengthening collaborative, profitable relationships between manufacturers and retailers through the use and optimization of reliable data.
VELOCITY Essential, which is available through the company's Value-added Reseller Network, provides consumer goods manufacturers that don't require the extensive features and capabilities of VELOCITY Pro an effective and affordable alternative with many of the same advantages, efficiencies and benefits.
The new VELOCITY edition is a logical and effective solution for companies that have a smaller number of brands or geographical presence, want to limit IT staffing requirements and have a limited number of users.
"Small or large, local or international, consumer goods companies have the same inherent need: to make the best decisions possible and in the timeliest fashion to increase sales, profitably, consumer satisfaction and brand loyalty," said Jeff Beckett, Retail Velocity cofounder. "With Essential, manufacturers can take advantage of a standard set of retail data adaptors and attributes to leverage one version of the truth and realize similar business value as our Pro clients."
About Retail Velocity
Since 1994, Retail Velocity has been an industry leader in helping consumer goods manufacturers and retailers better collaborate to gain greater visibility into—and control of—the most timely, accurate and reliable data. By leveraging clean, harmonized daily demand and supply data at the most granular level, companies develop precise analytics to generate actionable insights and greater business intelligence, helping improve sell-through, eliminate operational inefficiencies and achieve profitable growth. Retail Velocity's best-in-class platform, VELOCITY®, provides one version of the truth to help users make profitable decisions and accelerate growth and success for key business areas such as sales, marketing, supply chain, demand planning, finance, operations and IT.
Media Contact:
Chris Spallino
Sr. Director of Marketing and Communications
chris.spallino@retailvelocity.com